Dr David Feng
Respiratory and General Physician, MBBS FRACP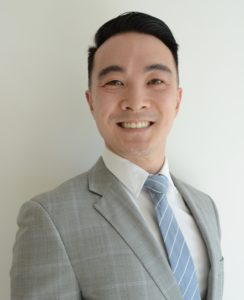 Dr David Feng has commenced private practice at Hobart Cardiology and Medical Specialists. He has recently made a sea-change from Melbourne to Hobart. Dr. Feng is a dual trained physician. He completed his training as a General Physician at Western Health, Ballarat Health and the Royal Melbourne Hospital in Victoria. He then completed his Respiratory Medicine training at the Royal Melbourne Hospital and has undertaken a Pleural Medicine fellowship under Dr. Sanjeevan Muruganandan at Northern Health, an internationally recognised expert in Pleural Medicine.
Skills and Expertise
Dr. Feng is passionate about respiratory medicine as a whole and offers consultations for all respiratory conditions including asthma, COPD, interstitial-lung disease, lung cancer and pleural diseases. He has expertise specifically in the areas of lung-cancer diagnostics as well as the management of pleural diseases. Dr Feng is also happy to provide consultations for obstructive sleep-apnoea and insomnia.
Lung function testing can be performed prior to your appointment with Dr. Feng, allowing for immediate results.
Meet Dr Feng
Dr. Feng maintains interests in research and developing low-fidelty models to teach trainees procedural skills in a safe environment. He is rather proud of his tofu-model for teaching needle-guidance. When he is not ultrasounding tofu, he enjoys cooking it and a variety of other tasty ingredients for his family. His spare time is mainly spent spoiling his labrador retrievers.