Associate Professor Roland McCallum
Endocrinologist and General Physician BSc(Hons) MBChB FRCP(Glasg) FRACP MD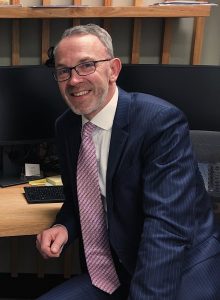 Roland graduated from the University of Glasgow and worked in the MRC Blood Pressure and Endocrinology Unit in the Western Infirmary whilst completing his basic Physician training. He was awarded a postgraduate MD with a thesis investigating the vascular effects of Growth Hormone replacement in hypopituitary patients. He was appointed as a Specialist in Endocrinology and General Medicine in 2006 having trained in various hospitals around the West of Scotland.
He became a Staff Specialist in Endocrinology at the Royal Hobart Hospital in 2007 and is a Visiting Medical Officer at Hobart Private, Calvary and St John's Hospitals. He has initiated various joint clinics with specialists at the RHH in Gynaecology, Sexual Health and Cystic Fibrosis as well as regular clinics at the Aboriginal Health Centre and the Menzies Hypertension Unit. He is the Tasmanian investigator on an Australian insulin pump trial and has research interests in weight loss, diabetes and thyroid disease.
Skills and Expertise
Roland provides a relaxed but thorough approach for managing Type 1 and Type 2 diabetes and various endocrine conditions.