Clinical Associate Professor Scott Whyte
Neurologist and Geriatrician, MBBS, FRACP, PhD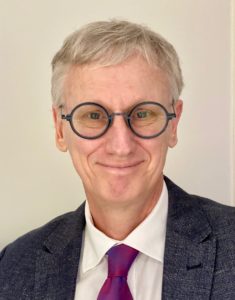 Senior Staff Specialist Central Coast Area Health District, and Director Movement disorders multidisciplinary and Botulinum toxin clinics CCAHS; Clinical Associate Professor University of Newcastle.

Assoc. Prof. Scott Whyte has over 30 years experience as a Neurologist and Geriatrician. He trained in Neurology at St Vincent's hospital Sydney, and then in Geriatrics at Concord Hospital Sydney, before undertaking a PhD at Melbourne University studying Neurodegenerative disease. During his time in Melbourne he ran a Multi-disciplinary inpatient Parkinson's disease unit at Kingston Centre; and helped establish a Falls and Balance clinic at Mount Royal Hospital. He was Co-investigator in NH&MRC funded research studies and received an NH&MRC scholarship. On returning to Sydney he was employed as an academic at Sydney university, where he helped define the curriculum and learning objectives as well as teach the new Post Graduate Medical degree at SydU; also co-ordinate the year 3 clinical program at Concord Hospital. Clinical responsibilities were at Concord hospital where he co-initiated a Multidisciplinary Movement disorders clinic, and worked within a Cognitive disorders clinic, Acute and domiciliary Geriatric services. For the last 20 years he has worked in the Central Coast Area Health service, initially as a Geriatrician involved in acute, community and rehabilitation service, and then for the last 18 years as a Neurologist, 10 years of which was as Head of Department of Neurology. He has been director of the Movement Disorders clinic CCAHS for over 10 years.
Skills and Expertise
Clin. Assoc. Prof. Whyte works as a general Neurologist and Geriatrician with particular focus on Movement and cognitive disorders, including: Parkinson's disease and Parkinson's plus disorders, tremor, Tic and dystonias. He is experienced in young and late onset cognitive disorders including Fronto-temporal dementias and dementia associated with other Neurodegenerative conditions. He has an interest in movement disorders associated with Psychiatric disorders and medication; and people with intellectual disability. He runs a botulinum toxin therapy clinic for disorders including: migraine, blepharospasm, hemifacial spasm, sialorrhoea, tremor involving head and neck as a component of therapy for cervical dystonia, limb tremors, cerebral palsy and equinovarus, and hyperhidrosis. He has over 10 years experience with advanced (continuous) therapies for Parkinson's disease including: high frequency "liquid Sinemet" oral therapy, apomorphine intermittent pen and continuous infusion; deep brain stimulation adjustment for Parkinson's disease, Tremor and dystonia; and Duodopa intestinal infusion therapy. Clin. Assoc. Prof. Whyte also sees patients with general Neurological conditions such as epilepsy, stroke and TIA, and headaches. Patients with demyelinating conditions or neuropathy are better reviewed by clinicians within appropriate MS clinics or offering Neurophysiological services.
Meet Clin A/Prof Scott Whyte
Clin. Assoc. Prof. Whyte knows the importance of multidisciplinary care as can be seen by the many clinics that he has helped create with such a focus. He believes in the importance of exercise, social engagement, mental stimulation and appropriate diet for brain health. He is a keen gardener, bush walker, surf skier, and wood worker.